10 Anniversary Exhibition ARS LONGA
& Special Guests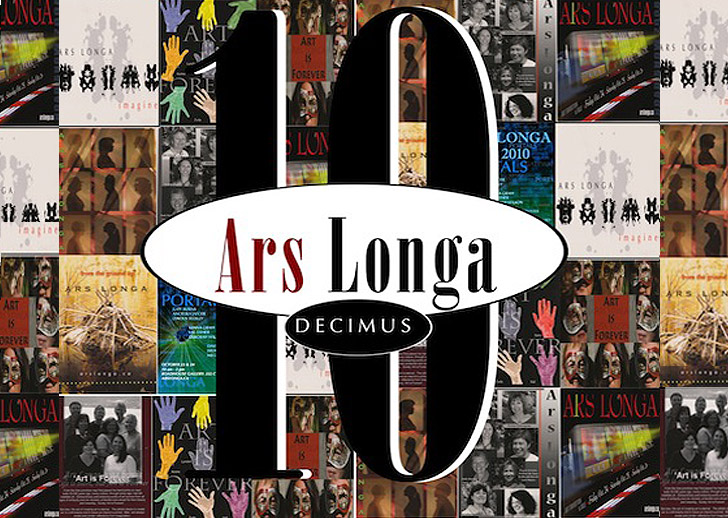 Art Exhibition and Sale:

Saturday, October 20th
10am - 5pm

Sunday, October 21st
10am - 5pm


Location:

Roadhouse Gallery
355 Cornish Road, Kelowna
MAP

Ars Longa Artists:

Lynden Beesley – Bronze Sculpture and Print Making
Judy Burns – Photographic Art
Val Eibner – Fused Glass Art
Kenna Graff – Acrylic Painting
Angelika Jaeger – Mixed Media

Special Guest Artists:

Mary-Ann Acutt
Pavel Barta
Debbie Busch
Dave Clarke
Julie Elliot
Hannah Griffin
Sara Lige
Lori Mairs
Trevor Moen
David Montpetit
Valorie Nielsen
Shaz
Shelah Pansegrau
Carolina Sanchez de Bustamante
Annabel Stanley
John Topham
Francine Walker


Lynden Beesley

Lynden Beesley has made the Okanagan her home. Gradually Lynden's new work has evolved to include the flora and fauna of this verdant valley. Her European identity with its myth and folkloric backdrop is now interlaced with imagery which includes her Canadian habitat and values. Lynden continues to work in Bronze Sculpture and limited edition Hand Pulled Prints.

"Victoria"
Judy Burns

The content of my work focuses on 'what we don't see', what we skim over and take for granted. It is about shape and form, light and shadow. How are these elements altered with the change of season, the time of day or our particular frame of mind?

When looking closely, these images and minor events can alter one's life.



Val Eibner

My journey into Light, Color, and Reflection is propelled by using Glass as the vehicle. Fusing (Melting) Glass together allows all of these choices for the artist to manipulate and create an artwork featuring many sensory effects.

My fascination and focus this year surrounds the altering of fused glass forms using slumping, weaving or folding techniques. The resulting effects create a highly tactile, porous and reflective surface that titillates the imagination.


"Mesh"
Born in Vernon BC, Kenna is a 3rd generation Okanagan resident.

Encouraged to make art from an early age by extremely creative and productive parents, her mother a textile artist, her father a builder and wood working craftsman. Kenna chose painting and for the past 20 years has expressed herself visually on canvas as well as exploring other mediums. Artistic pursuits include encouraging, sharing, interacting, appreciating and presenting the arts through her own art work, working in fine arts galleries and co-founder of the arts group Ars Longa. Kenna adores her time outdoors in the mountain and water areas of the Valley during any and every season of the year.






Angelika Jaeger

Welcome to the 10th year of existence for this exciting art collective.

I have always been curious as to why connections are important in our lives. In my research I came across the depicting of the nest. Last year I exhibited the nest in 3D form. This year I am presenting you with the nest through an exploration of drawings in mixed media of natural materials.

I do hope you find a nest for yourself.
I'm excited by the natural things around me, especially nature. Color, texture,shape all intrigue me; for many years I used fabric and threads to capture an image rather than a camera. I want to capture the essence/feeling of the image or object, to figure out the elements that make that image or object what it is.

The last few years I have started using mixed media and am excited about the possibilities that exist. Mixed media has the potential of recycling many interesting things in one's art work and we all know there is an endless amount of things in our disposable world to be had. My current work incorporates recycled materials as well as found objects to create textures, and designs.

The body of work I am presently working on consists of containers. I became interested in Dale Chihuly's works of blown glass. I was inspired by one of his students, William Morris, who's work is blown glass but looks more like pottery. I like the rough, crackled effects that can be created. Presently I am trying to portray textures and simple shapes with color in my work that ask the viewer to explore and exercise their mind in discovering, and finding what was used to create the work of art.





Pavel Barta

My art reflects everyday life. When things happen, they evoke images in my mind and I try to materialize those images. When I create a sculpture, I always try to capture movement and energy. My goal is to create sculptures that in spite of being static and motionless evoke positive energy full of life and hope in those who stop to look at them.

The best reward I can get is to know that thanks to my art someone's day became brighter.
| | | |
| --- | --- | --- |
| | If you limit the artistic process, you limit your creative potential. I challenge myself to paint utilizing new methods of mark-making, experimenting with different materials, all the while staying open to the processes of chance. I have had the opportunity to travel to many different countries and have found in these cultures similarities in a visual language that speak to all. Symbols which are found on road signs, airports, packaging material, all contain a simplicity that resonate within me, it is this aesthetic that I strive for in my work. Although my paintings source of imagery is simplistic, often primal, the bold use of colour and form create and an intensive dialogue on the canvas. Painting is my genuine search for truth and purity within the human spirit that is both realistic and abstract. | |
| | | |
| --- | --- | --- |
| | David's designs are inspired from nature and unusual textures. He incorporates natural gemstones, gold and platinum nuggets in his artistic jewelry. His unique handcrafted fine quality jewelry is made to pass down through the generations of your family. | |
"Inspiration far more often comes during the work than before it, because the largest part of the job of the artist is to listen to the work, and go where it tells one to go." (Madeleine L'Engle). My process starts with a word, a phrase or a spiritual teaching that resonates with me and invites exploration. I then "listen to the work" as I layer acrylic paint and monoprints, weaving together loose spontaneous marks with layers that are carefully considered. Lately, I've been preoccupied with the union of opposites – both as a concept to explore and as a process for painting. I'm striving for paintings that are both complex and simple, meaningful for me and open ended for the viewer, painted with abandon and built slowly over time with much reflection. It's a challenging way to work that is also joyful and compelling.

"In the Valley of the Universe"
36 in x 36 in
acrylic on canvas



Hannah Griffin is a young emerging artist with a special interest in the relationship between landscape and abstraction. She is a recent graduate from the University of British Columbia Okanagan Bachelor of Fine Arts program. She has been actively and energetically producing and showing work since receiving her degree. Hannah was born and raised in Kelowna and has a special connection to local landmarks which appear frequently in her work.

Her practice focuses in on the importance of landscape as a genre as well as its cultural importance in contemporary society. Her paintings portray a unique and exciting look at the landscape genre by combining new aerial viewpoints and references to geological processes as well as topographical maps. Hannah's unique and exciting large and medium scale acrylic paintings are a refreshing addition to the landscape genre.
Just as experience is layered – in time, memory, and emotion, my work is a result of building layers until a resolution is reached. Mediums of choice are those that allow me to work in stages and layers -printmaking, drawing, collage and painting. Thematically, my work reflects basic life issues –emotion, spirituality, identity and memory; it is "inner-directed" art created out of my thoughts and personal experience.

This new work signals my return to the studio after a break of a few years while I focused on my studies as well as Cool Arts, the disability arts group I founded in 2003.



Lori Mairs is a sculptor and film maker entering her second year of graduate studies at UBCO. Her practice-based research is a creative collaboration between herself and the land she lives on. Lori's sculptural works of steel, copper, bone, antler and semiprecious stone are a reflection of dialogue she's having with the land.

"Finally and Angel
with Teeth" (2010)
6" X 3" X 3"
bone, 14kt gold, sterling silver,
moose antler
| | | |
| --- | --- | --- |
| | Trevor draws on his back country experiences to drive his artwork. He is fortunate to have a long line of artists in the family, their example has provided him the support, inspiration and determination to succeed in his art making. | |
| | | |
| --- | --- | --- |
| | I produce a variety of work, primarily consisting of 'float glass' but also incorporating metal, stone, wood and pigments. "Float" glass is common window glass and I choose to work with this form because of the challenge of turning something with no inherent beauty - no soul - into a work which captures not only the light but also the imagination. I feel that in this digital age we are inundated with imagery. These are my 'special effects' - not simulations but, hopefully, a fresh interpretation of the characteristics inherant in this difficult and inflexible material. | |
RELAX ~ VISUALIZE ~ CREATE
Open your eyes. Open your mind. Explore texture, colour, techniques.
Push the boundaries. Test, observe, test again. Keep it fresh! Be grateful.
Fuel your passion. Simple = Beautiful. Absorb inspiration. Reflect nature's miracles.
Seek balance in life. Consider criticism. Accept compliments. Practice more. Just start.
Drive your dreams.
Breathe deeply.
Believe



On first observing the eclectic diversity of Shaz's work, one is struck by the originality. She creates unique, earthy pottery in subtle tones, shocking clay masks with bulging eyes, Picasso-esque faces in vibrant colours, large woven masks with enigmatic personalities, and innovative 3-D wall art and clay murals in a variety of subjects, styles and finishes, as well as abstract, free standing clay and marble sculptures. She is most well known for her masks, and jazz & wine series of clay wall art.

It is apparent that Shaz draws her inspiration from a wide variety of sources creating the evocative, striking array of works which emerge from her studio.

The need to explore and expand as an artist leads Shaz on a constantly evolving experiment in colours, textures, styles, complexity, and firing & finishing processes. The challenge and satisfaction of creating art with earth, fire and stone give her the incentive to create for her own and the viewers enjoyment.
Shelah Pansegrau is a life observer, learner and artist who has admired, collected and created art her entire life.

As a glass bead artist, Shelah spins strands of molten glass at the torch to create one of a kind, glass beads which she designs into intimate and wearable art. Every bead is individually hand crafted from Venetian and German glass rods, pure gold and silver leaf, reduction frits and intense fire. Every piece of jewelry is designed and crafted to include pearls, crystals, sterling beads and findings and signature Bella Dolci tag.

Shelah finds working with molten glass exciting and expressive, challenging and dangerous, obsessive and satisfying.

In addition to ink on paper drawings, Shelah is also exploring mixed media applications for her photography. Using various painting software, she digitally alters her photographs creating impressionist style, one off giclees.



Carolina Sanchez de Bustamante

It is my intention to open paths with the possibility to connect them to joyful discoveries. My art is a constant search as a human being.

SPIRITS DESIRE, SPIRITS ATTAIN >>
tapestry in wool, mohair and cotton - 36"x42"x3"
Annabel Stanley was born in England in 1966 and is the great grand niece of the famous architect Sir Edwin Lutyens.

She was a florist in London for 4 years and her clients included Tiffany's the Jewelers, Duke and Duchess of York at Buckingham Palace and she arranged flowers for Ella Fitzgerald when she performed at Royal Albert Hall.

Annabel has been weaving for 15 years. She started in New Zealand where she lived with her husband Grant Stanley (Wine maker at Quails Gate Winery).
She has been featured in The New Zealand Gardener, New Zealand Cuisine and on NZ National TV, also in the first issue of Sculptures Pacific in Canada.
Annabel weaves with vine canes, dog wood, willow, wire, moss and many other materials which give a vibrant natural effect that exhibit well inside or outside.

annabelstanley.com



John took his formal training in Fine Arts at the Kootenay School Art. He taught pottery in Yukon and Labrador, with emphasis in wheel work, hand building and glazing techniques.

In the process of evolution, his interest in turning from vertical to horizontal and an abundance hardwood, became his principal interest. Initially, he found the the challenges of wood turning somewhat challenging, but has since mastered the nuances of wood and it's characteristics.

Mentored by world renown Wood turner, Richard Raffin, John developed his skills and knowledge required to produce functional turned work.

The bulk of John's work is utilitarian, using local hardwood trees that have been discarded and salvaged, contemporary pieces are more frequently crafted through inspiration and motivation.

Most sales are transacted through his studio, currently he has work at the Summerland Art Gallery, Summerland Sweets, Summerland Chamber of Commerce, Street Gallery in Victoria and others in the Okanagan Valley.

His work has been sold throughout Canada, the U.S., Caribbean, Europe and Asia.
Francine Walker is a modern goldsmith and metalsmith, whose mind is constantly stimulated with creative ideas. She loves to create one-of-a-kind pieces of wearable art that explore texture, and simple geometrical shapes. Gold, silver and gemstones are her favorite materials to create with. Custom and production designs are made by the artist personally to ensure originality and quality.

She is a studio graduate of Jewellery and Small Object Design from Kootenay School of the Arts in Nelson, British Columbia, as well as a graduate of Interior Design from Mount Royal Collage in Calgary, Alberta.
Francine lives with her musician husband and Lego-building-dare-devil boys. She creates from her studio overlooking Lake Okanagan in Kelowna, BC.